The Enlow Fork Wildflower Walk page!
The walk and nature events are sponsored by the Wheeling Creek Watershed Conservancy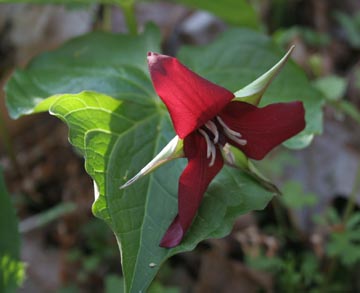 The 2019 Enlow Fork Wildflower Walk:
Sunday, April 28






Come before 8 a.m. for the bird hike. The first guided wildflower walk starts around 10 a.m., but you can go anytime on your own.

A large group of enthusiastic hikers participated at last year's walk! We're hoping for good weather and more flowers! Join us!.

Hear are some photos from past wildflower walks.

Full-sized photos can be e-mailed or printed (price upon request). All photos copyright Pete Zapadka (the above photo, a red trillium, was taken April 27, 2008, at Enlow Fork). This Web site also is updated by Pete Zapadka for the Wheeling Creek Watershed Conservancy.

---
Now: A general locator map so you can see the approximate area in which Enlow Fork lies. You'll see it is close to Pennsylvania's western border with West Virginia, also known as the Ellicott Line.

Remember, Enlow Fork is part of state Game Lands 302, so hunting always is a possibility at any time of year. Always follow state Games Lands rules and regulations. Do NOT pick the flowers!!

Come take a walk on a Sunday to enjoy the flora and fauna of the Enlow Fork area.

---
Remember: Greene County is THE place to be!
Page last updated 2019 March 20.